MeRy Fine Art Photography Breda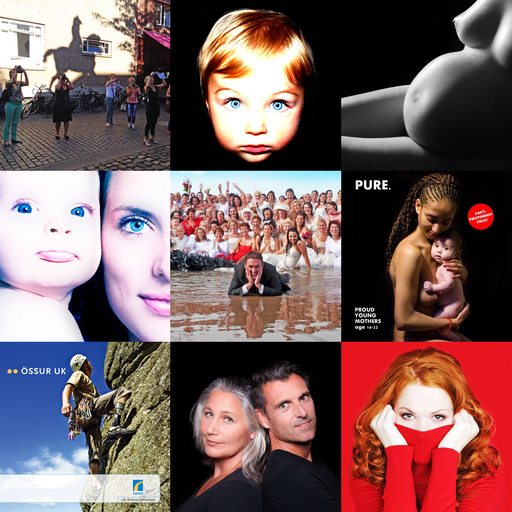 My name is Melanie Rijkers (1971, Bakel, the Netherlands) and since 1996 (Academie St. Joost) I work as a fine art photographer by the name of MeRy. I love people & places. I study the shapes of the human body by using the light, I just love the Rembrandtesque 1-light-source lighting against a black background.
My series PURE. Proud young mothers was done this way, young women pregnant or with child were posing naked against my favourite black background. Intimate, strong portraits of strong and proud models, age 16-23 from all over the Netherlands, from every culture or color. The work was published in my first photobook 'PUUR. Trotse tienermoeders' published by d'Jongehond, 120 pages full color, available tru webshop.
Also I like to create commissioned work, such as my design of 'combined photos' using Dutch flowers and historic photos in one. Often for interior architects and companies like the Rabobank, or social housing company Singelveste Alleewonen. Most recent work is the series 'Crossing Geeren-Zuid' about over a 100 houses which were demolished last summer. The book is vavailable tru Blurb.com, search for MeRy71.
Furthermore I design what we call 'photo birthday cards', announcements people send when a new baby is born, we call foto geboortekaartjes. I create wedding albums and event series. Sometimes my husband Hans van Nunen, fellow photographer of my studio Artstudio23.com, and I do an ooccassional wedding. Often like a documentary, as if we were photo journalists.
In 2009 we were world-wide-news with our mass Trash the Dress stunt, with over 99 (ex)brides trashing their wedding dresses in the Northsea of Scheveningen Beach. Also of this event and the next Trash The Dress event of 10-10-'10 I created a photobook worldwide available tru Blurb.
My husband and I work together as Artstudio23.com. Photostudio: Speelhuislaan 173-B in Breda. Office: Huis voor Beeldcultuur, Reigerstraat 16, Breda. Hans is now also the teacher of a photocourse twice a week, 6 times a year and various workshops and private photo lessons.